Preface
I was born Catholic and was brought up by Catholic parents of six children – I am the fifth child. I have always been a devout catholic ever since I first received the Holy Spirit into my life. It occurred when I was 15 years old: one evening, I attended a prayer group meeting at Holy Trinity Church, in Tawau, Malaysia. At that time, I was one of the Catholic Charismatic Renewal members in Tawau; I was active in serving the Lord in the form of many activities in and out of the church. I was educated to university level and have been working as private tutor / teacher of English. In the meantime, I serve God's mission.
In 19 June 1993, I am married to Thierry who is Belgian, and we live in Belgium. My spouse was born Catholic and was brought up by Catholic parents of five children – he is the fifth child. We have got two sons, Jeremiah and Timothy, and today, they have grown up. They are in their 20's, and they are educated to the Higher Education (University level) in The United Kingdom. I thank God for who I am and for my family; I love my family immensely, and I bless the LORD for the gift of such wonderful love and mercy within my family, as GOD truly is good and GOD is with us. AMEN! ALLELUIA!
THIS IS THE DAY - Wedding Song
(Click on the picture to have a Larger Picture.)
"Let us join together in ONE God's wonderful family..."
God's kingdom is near...
Having lived in Belgium for so many years, I have come across myriad of hardships such as language barrier (French), cultural adaptation, getting friendships, getting suitable employment, to name but a few. In addition, for me it is peculiar to have to conform the manner how catholic worship takes place in the francophone community; it is surprisingly different compared to what I had attended in anglophone catholic worship in Malaysia and in the UK. It is challenging, however, again I believe God has been testing my "faith" and "love" towards Him since. At that time, I felt the Lord told me this, "It is your act of love that I aimed at, not being indifferent." It touches deeply in my soul, as I believe Christ has revealed his importance of "love", in whatever I do, see, and think. Moreover, there was a period of "darkness" that we encountered in our couple, like many couples do....This situation was inevitable due to..., again I insist, "differences between two people"....I believe God had tested my "faith" during that period about the question "LOVE" . God questioned me, "What does LOVE means to me?"
Days had passed, yet the question lingered in my mind...While I was struggling to find the answer, God gave me the insight what the meaning of "LOVE" is: my personal thought says, "it is to love the 'ONE' who creates me with all my heart, with all my soul, with all my strength and with all my mind...and if I could see "this LOVE", this Divine Love...it helps me to love others, as God loves me (and all mankind). Such insight makes me stand in awe, "what an amazing grace," I feel I fear God...He is GREAT! Further wisdom from Him is that, since I put him first in my life rather than any other matters, God's Spirit helped me to go through all the dire straits which I had encountered during that dark period. I have trusted such wisdom/insight since then. All I have seen since, is that, God is so faithful, loving and merciful...He wants me to imitate him, though imperfect I am, He LOVES ME...THANK YOU LORD!
In 2000, Thierry discovered that he had hernia, this means part of his spinal bone protrudes slightly through the wall of the cavity containing it. This incident caused him a lot of pain on his back, he could not stand for a long time nor walking too long nor carrying heavy items, and he could hardly sitting down comfortably. He looked doomed at times whenever the pain was there again. Seeing his suffering, my heart wept as I sympathised his 'bad'condition.
Meanwhile, at that time I was also not feeling well as I felt some inconvenience happened on the lower part of my abdomen, where the urinary part located. Yet, I had positive thinking that all would be fine in Jesus' cares – I trust him completely!
I had been praying for Thierry every day. Then one day, I was reading a Catholic Goodnews from the UK, I came across a kind of Healing Rally leaflet in it. I read it through. It was indeed organised and conducted by Cor et Lumen Christi in London, in July 2005. I did not know them, but I strongly felt that the Lord had prompted me to attend it. I prayed to God, and if it was really His will, He will touch Thierry's heart about the news. Hence, one evening, I approached Thierry and told him about it, I was pleased as he agreed to go with me, though I a bit ignorant about "healing by means of praying over". Thierry had never experienced praying the outpouring of the Holy Spirit over somebody. I explained to him that, "Jesus comes to heal the sick, therefore, it is your faith will make you well."
When we were at the Friends Meeting, where the Healing event took place, we were happy but also surprised to see the crowds packed in the building. When the praying for healing began, I received the power of the Holy Spirit for the second time; I felt I was rejoiced to see how great God's mercy and his Love is: so indescribable great! At that time, I could not help wiping and my body was held firm from my toes through my hands/fingers and head, meanwhile, my arms were shaken. Later, there was somebody came and prayed over me and anointed me with oil on my forehead, gradually, I felt my body returned to a normal state. I heart was full of joy!
In fact, Thierry did receive the power of the Holy Spirit too, it was for the first time. At that time when it happened, he said simply, "Jesus, I surrender all to you." He declared, he then felt like "the electricity flowing through into his arms. When I felt I was back to my normal state, he agreed that I brought him down to a hall nearby the podium, where I got a brother of the Community to help prayed over Thierry, particularly healing for his hernia. After the praying over, Thierry was anointed with oil on his forehead like I was. Later, he declared that he felt "relieve" and "happy" inside him.
When we were back in Belgium, as time passed by, we continued praying every day in our family; I acknowledge that the problem in my body had gone, I did not feel any more the inconvenient pain in the lower part of my abdomen. Praise God! Whereas, for Thierry, at that time he occasionally did feel the pain on his back – but it was amazing he could walk, sit, and carry heavy items without commenting any pain! I told him not to worry, but have faith in God, and continued praying for it. Now, what I have seen since last two years ago, he NEVER complaining about it any more – I really believe that Thierry is completely healed by God! He looks very normal condition now. Alleluia!
Our God - Chris Tomlin (acoustic_version) fana.mp3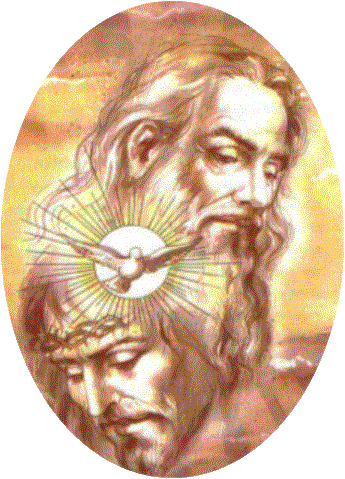 The Blessed Trinity - Our GOD:
The DIVINE Mystery of ONE GOD in three Persons
God is our Father in Heaven. He is the Father for all mankind, and He is our Creator.
The Father invites my family and I to pray together the "Our Father" every day during family ROSARY prayer at home, everywhere we go, and at every meal. As the prayer is such a "powerful & beautiful prayer" - I would like to invite you to listen, pray and reflect on the prayer: 'Pater Nostra' in Latin, with the translation in English (click on the video clip below).
GOD BLESS...
A call for further purification
Indeed, in 2005, I had had the thought to go to Lourdes with my family. Hence I had eagerly prayed with the Blessed Virgin, I asked Her to help me to fulfil "my dream" if it is God's will. For us, travelling is costly, since we live day-by-day only dependent on one breadwinner in our household – I do not have a stable job. Therefore, in terms of financial it can be one of our main concerns. Yet, I believe that in God, nothing is impossible...I trust Mother Mary's prayer for us. I said "us", as I had the intention to bring my family to Lourdes. I talked about it to them, but it seemed they were adamant that they would not interested in my invitation. So I asked the Blessed Virgin to inspire their hearts with this invitation, along with my incessant prayer to God.
Thanks to God's grace, and thanks to Mother Mary's intercession, on mid-August 2009, my family and I went to Lourdes by our own vehicle. When we arrived in Lourdes, we lodged at a very simple flat owned by a British couple. The next day, we were at Lourdes. Personally, I regard Lourdes as a very crowded place, but, what incited me about the place is that, I really felt the presence of the Holy Virgin Mary over there: it is such a Holy Place – like a place where God provides a "Sanctuary" for His "hunger and thirsty for God's grace (i.e. help love and mercy from God). Observing by the situation, I was touched. I felt my faith was awakened up more and more for God the Father, the Son and Holy Spirit, through Mother Mary's leading me and my family. It is hard to describe here by words about what I observed, it was touching, the "amazing beauty" of God's grace is indescribable!
After staying about a week in Lourdes, we headed towards Nevers on our return to Belgium. At Nevers, we decided to visit the body of a Saint, called Sainte Bernadette; she had several visions of Mother Mary apparitions in Lourdes, and she received some vital messages for her (personally) and also for the world...In fact, Mother Mary is leading the world to the His Son, Jesus Christ. By believing in Him, we can obtain forgiveness and fullness of life with God. She constantly calls us to live in holiness...The question is, do we have ears to listen to the call...?
The body of Sainte Bernadette is incorrupt, it is so gracefully beautiful. It shows the world that "miracles do happen", in God all is possible, and God is HOLY. Like Mother Mary, God calls us to be holy. Why? Except through our eagerness to wanting to follow His Way, we cannot see the Light of Christ, which gives us everlasting hope and peace here on earth and towards the afterlife...This wonderful phenomenon and understanding, help me and my family realise that God is love and merciful. His Kingdom is so near to us, yet many cannot see...For the scripture says, "Be still, and know that I am your God," (see Psalm 46:10a). Simply have some time in silence with God, then you will sense that... He is so SPECIAL to YOU! Amen!
The religious habit to pray together has been practised by me and Thierry since we met; we prayed the ROSARY together everyday, but after our children were born, sadly, we occasionally prayed together, but always did it alone or ignored due to many worldly reasons! However, God was and is always looking at us from Heaven, and His Love and Mercy to us is never end...He continues to win my heart, and my family's heart – for me, I always open to the Holy Spirit in my prayers.
When we were back in Belgium, our family's life has changed: through God's grace I made a Sacred place (an altar) for family prayer in our home. We are used to praying the ROSARY together at home every day. On the road, and everywhere we go, we do not cease to pick up our Rosary to pray together in the family. Because we believe that praying together could bring us together, united in God's Love and Mercy, despite any "shakable" situations. We have decided to put the Blessed Trinity in the centre of our family; together with the Rosary, we recite it everyday with the Blessed Virgin Mary, who always protects us and keeps us on the path that God wants us to go to. AMEN! Thank you Mother Mary!
Praise you JESUS!
The Family Prayer Song - Maranatha! Praise 16.mp3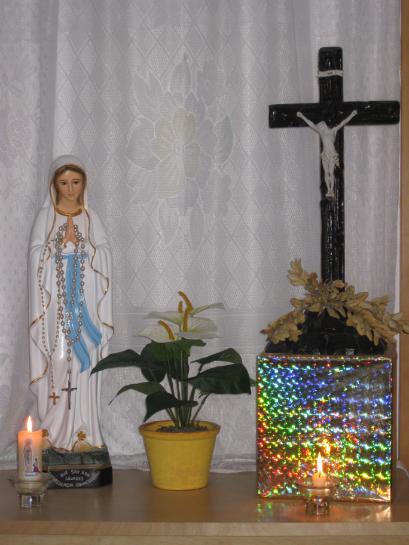 Our Family Altar comes into its existence after our pilgrimage to Lourdes in 2009.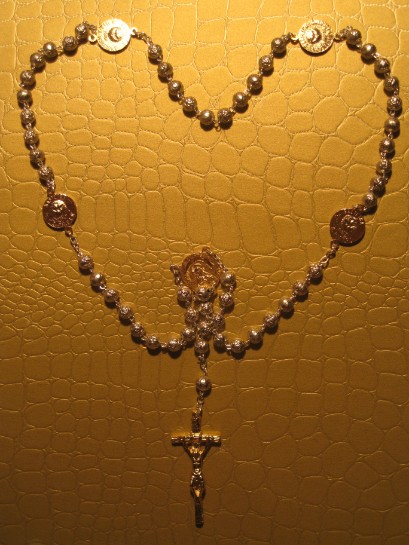 THE HOLY ROSARY - it is the gift from the Almighty God to everyone; it helps open the heart to His Love & Mercy for those who humbly pray with the Blessed Virgin Mary.
The Holy Virgin Mary with Her Son, Jesus...
She stands on the Earth, and she holds up the Rosary to show the world that, "the ROSARY is the way to LOVE, PEACE, and HOPE." Jesus is always with Her, bringing the LOVE, PEACE and HOPE to the world...
The Blessed Virgin Mary is our Mother. She is the Queen of Heaven, and the Mother of all nations.
She is the Immaculate Conception, and through Her humble acceptance of God's will, God sent His Son Jesus into the world for us, for our SALVATION.
Since from the beginning, She has humbly accepted God's Will to lead us to the Father through Her prayers and intercessions. She is indeed the Mother of Our Saviour, Jesus Christ.
The Holy Mother constantly reminds my family and I to pray with the heart: we pray the ROSARY every day, despite our individual circumstances. She invites us to pray together as much as possible in the family; in doing so, it helps unite our family in God's Love.
We also believe that the Rosary is one of the 5 weapons against temptations; the other four are: Eucharist, Holy Bible, fasting and monthly confession. Since the "Hail Mary" prayer is graceful & sovereign, again, I invite you to listen, pray and reflect on the prayer: 'Ave Maria' in Latin, with the translation in English (click on the video clip below).
The Holy Mother LOVES YOU, as much as Her Son does...
F. Moris © God's Mission, Copyright, October 2010 - All Rights Reserved